Our olives are carefully pressed with masterful skill by our olive miller who blends two different selections of oil.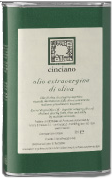 Extra Virgin Oliv Oil
Rich hints of vegetables, fresh, intense and substantial, spicy with a slight bitterness in the aftertaste.
Extra Virgin Oliv Oil
Soft and delicate, with golden reflections, an aroma of pine nuts and almonds and a well-rounded flavour, full and subtle at the same time.