OUR WINES ARE OUR PRIDE AND AUTHENTIC PASSION.
THE STRENGTH OF SANGIOVESE IS THE SYMBOL, TRADITION IS THE METHOD.

Cinciano Bianco IGP Toscana
50% Viognier, 30% Chardonnay, 20% Sauvignon Blanc
Fresh and lively, elegant and balanced. Cinciano Bianco is produced with a blend of Viognier, Chardonnay and Sauvignon Blanc, three grape varieties which give this product an excellent sapidity and minerality. With its fruity and floral aromas it is a very pleasing wine to be offered as an aperitif or matched to fish dishes and white meat.

Cinciano Preziano IGP Toscana
100% Sangiovese
Last born in the winery, it is a 100% Sangiovese vinified in white: grapes are simply destemmed and moved to the press where, by simply draining the must, it is obtained a must with no color which is then fermented at low temperatures for about twenty days.
The color is straw yellow with golden hues, with very intense floral scents and a persistent bouquet typical of Sangiovese. To the taste stands out the acidity which, together with the sapidity, prolongs the aftertaste. As well as aperitifs and white meats, it is also an excellent accompaniment to traditional Tuscan first courses, such as pici cacio e pepe.

Gotifredo Rosato IGP Toscana
100% Sangiovese
Produced with 100% Sangiovese, the grapes are pressed enough to reach the desired color point. Alcoholic fermentation is then carried out at low temperatures.
It is a wine characterized by a great richness of aromas, mainly fruity, with a good complexity and structure, very balanced, fresh, extremely enjoyable. Excellent as aperitif, it goes well with Tuscan appetizers, fish and white meat dishes and with first courses with light sauces.

Chianti Classico DOCG
100% Sangiovese
Obtained with 100% Sangiovese, it is the wine that best expresses all the peculiarities of Cinciano's many terroirs. In fact, it is produced with Sangiovese grapes harvested from vineyards having different altitudes, expositions and soils, which are matched with the different ages and styles of vines, giving life to an elegant, fine and balanced wine.
Very pleasing, it can be matched with all meat dishes.

Chianti Classico Riserva DOCG
100% Sangiovese
Riserva di Cinciano is a 100% Sangiovese coming from some of the best plots of the estate, located at about 250m asl and with a south-west exposure, perfect for obtaining an excellent and balanced level of ripeness. After the alcoholic and malolactic fermentation, this wine ages in large Slavonian oak barrels for about 18 months.
Intense color and hints of violet and cherry are its distinguishing features, together with a long drinkability and a structured, soft and medium tannic body.
In addition to meat dishes, it also pairs very well with semi-mature Tuscan cheeses.

Camponi Chianti Classico Riserva DOCG
100% Sangiovese
This is the product that best expresses all the characteristics of the "old style" Sangiovese grown in Cinciano, in the oldest vineyard of the estate, planted in 1971. It is a wine of great character, of excellent structure, austere, characterized by a fascinating very marked tannin and a pleasant acid note. It perfectly matches with all the great meat dishes of our tradition.

Chianti Classico Gran Selezione DOCG
100% Sangiovese
Produced with 100% Sangiovese, whose grapes are carefully and directly selected in the vineyard giving it a modern and fascinating expression. It is aged for at least 24 months in large Slavonian oak casks and about 12 months in bottle before release.
Endowed with elegance and finesse, roundness and balance, it has very complex and intense aromas, fruity and at the same time spicy.
It is certainly a meditation wine which goes very well with all meat dishes, important first courses and many aged cheeses.


Pietra Forte Rosso IGP Toscana
40% Merlot, 40% Cabernet Sauvignon, 20% Sangiovese
Produced from a blend of three different grape varieties, Merlot, Cabernet Sauvignon and Sangiovese, separately aged in barriques and tonneaux, it is a wine of great structure, very smooth and round, accompanied by complex aromas, in which fruity notes combine with pleasing and noble spicy notes.
Perfect in matching with game dishes, roasted and grilled meats.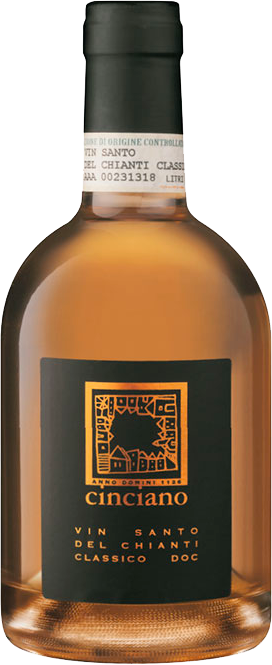 Vin Santo del Chianti Classico DOC
Trebbiano Toscano 50%, Malvasia del Chianti 50%
The grapes used for the production of this historic sweet wine are harvested at the end of September and dried, according to tradition, in a very ventilated room until the beginning of December, when the grapes are mellowed and left to ferment for at least 5 years in a chestnut, acacia or oak cask.
With a very pleasing taste, round and elegant, it goes well with all dry pastries and with blue cheese and medium seasoned cheeses.